Thailand Facts

Areas of Bangkok
Attractions
Shopping
Your Health

Restaurants
More restaurants
Dining/Food
Transport


BTS Sky Train


Sport in Thailand
Main Sports
Golf in Thailand
Football
Sports Centres
Entertainment
Night Life (Cont)
Pubs & Clubs
Karaoke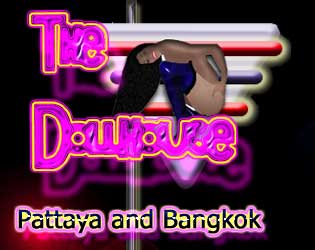 Accommodation
Bangkok Hotels
A - E
F - M
N - R
Q - S
T - Z

Appartments
Sukhumvit Area
Other Areas
| | |
| --- | --- |
| Main Feature | |
Your Logo or

Picture Here

Why not Feature your

Company or Website here
Currency & Money Exchange · Customs Regulations · Visa · Dining · Travelling · Shopping
| | |
| --- | --- |
| • | Thailand is a Buddhist country where Buddha images are held sacred. Sacrilegious acts are punishable by imprisonment even if committed by foreign visitors. |
| • | Thai people hold their King and Queen and the Royal Family in great reverence, and so won't tolerate foreigners talking about them in disrespect. |
| • | Generally Thai women are conservative. So don't touch them without their consent. |
| • | Dress properly when entering a Buddhist temple. Mini-skirts and shorts are not allowed. Take your shoes off before going inside the hall of worship. Ladies must not on any account touch a Buddhist monk, give things direct to him or receive things direct from him. |
| • | Intimacies between man and woman should not be shown in public. Sunbathing in the nude is prohibited. |
| • | Call Thais their first names; use the title "Khun" for adults. |
| • | Traditionally, Thais greet each other with a wai (by pressing the palms together at the chest). If someone wais you, you should wai back (except wai-ed by a child). |
| • | Thai people smile to express gladness and happiness, to thank for small services, to return the wai of children and inferior persons, and even to excuse small inconveniences. |
| • | Don't touch a person's head, nor ruffle his hair. The head is the noblest part of the body. A sincere apology should be offered immediately if you touch someone's head unintentionally. |
| • | Avoid placing your feet on the table while sitting. Never use your foot to point things out or to touch any part of the body of anyone, which is considered rude. |
| • | Entering a Thai house, you're expected to remove your shoes. |
•
Foreign visitors may freely bring in foreign currencies or other types of foreign exchange. Cheques or drafts brought in, if the owners desire to sell, must be sold to a bank. Upon leaving Thailand, they may freely take out all foreign exchange they have brought in. For residents, unlimited amounts of foreign notes and coins may be taken out for travelling expenses. The amount of draft or cheque is subject to the approval of the issuing bank.
•
Foreign visitors may bring in an unlimited amount of Thai currency. For travellers leaving Thailand, both Thais and foreigners, the maximum amount permitted to take out without prior authorization is 50,000 baht per person or, if they are going to one of Thailand's neighbouring countries, 500,000 baht per person.
•

The basic monetary unit in Thailand is the Baht. A baht is divided into 100 satang. The following coins and notes are currently in use:

Coins : 25 and 50 satang; 1, 5 and 10 baht
Bank notes : 10 (brown), 20 (green), 50 (blue), 100 (red), 500 (purple) and 1,000 (grey or brown) baht

•

Major foreign currencies can be exchanged for Thai baht with banks and authorized money changers. For buying baht, US dollars are the most readily acceptable , though travellers' cheques get a better rate than cash.

•

Major credit cards are also widely accepted in tourist centres. The most commonly accepted cards are Visa and Master Card, followed by Amex, Diners and JCB.

•
Exchange rate : 1 US$ = ~ 40-45 baht
•
Exports of Buddha images (except small ones carried on person), antiques and genuine works of art require export licenses from the Fine Arts Department. The shop you deal with can provide such service for you.
•
Foreign tourists are allowed to take out gold ornaments free. But import and export of gold other than jewellery are subject to licensing by the Ministry of Finance.
•
It is prohibited by law to bring any of the following items into Thailand:
1. Narcotics (e.g. marijuana, hemp, opium, cocaine, morphine, heroin)
2. Obscene literature or pictures
3.Firearms or ammunition -- unless a permit has been obtained from the National Police Office or a local Registration Office
•
One still camera with five rolls of still film or one movie/ video camera with three rolls of movie film and one used item each of electronic goods may be brought in free of duty.
The Thai government allows nationals from 37 countries to stay in Thailand for up to 30 days without an entry visa. For visitors from 15 other countries, transit visas valid for 15 days can be obtained at the cost of 300 baht on arrival at any of the 12 designated immigration checkpoints including the four airports at Don Muang (Bangkok), Chiang Mai, Phuket and Hat Yai.
Temporary visitors who are exempted from applying for an entry visa must be of the nationality of and holding a valid passport or travelling documents issued by:

| | |
| --- | --- |
| America | Brazil, Canada, Peru, U.S.A. |
| Asia | Brunei, Hong Kong, Indonesia, Israel, Japan, Kuwait, Malaysia, Philippines, Republic of Korea, Singapore, Turkey, United Arab Emirates, Vietnam |
| Pacific | Australia, New Zealand |
| Africa | South Africa |
| Europe | Austria, Belgium, Denmark, Finland, France, Germany, Greece, Ireland, Italy, Luxembourg, Netherlands, Norway, Portugal, Spain, Sweden, Switzerland, U.K. |

Visitors from 15 countries who are able to apply for 15-day transit visas upon arrival are as follows: Bahrain, Bhutan, China, Cyprus, Czech, Hungary, India, Kazakhstan, Maldives, Mauritius, Oman, Poland, Qatar, Saudi Arabia, and Ukraine.
Note : Please check the period of stay stamped in your passport upon entry into the Kingdom.

•
Categories of visas in Thailand are: Transit, Visitor Transit, Tourist, Non-Immigrant, Immigrant and Non-Quota Immigrant.
•
Holders of Transit, Visitor Transit and Tourist visas are not allowed to work in Thailand.
•
A tourist who wants to have his visa extended must apply to the Immigration Bureau with the following: passport with a xerox copy, one photo, a 500-baht extension fee and the medical certificate (in the case of being sick). If you overstay your visa, the penalty is a fine of 200 baht for each extra day, with a limit of 20,000 baht.

For more information contact:

The Immigration Bureau, Sathon Tai Road, Bangkok,

Tel. 0-2287-3101 / 10
| | |
| --- | --- |
| • | Drink only bottled or boiled water. |
| • | You can find places to eat 24 hours a day, but better avoid sidewalk stalls where, though food is cheap and palatable, hygienic conditions may not be up to standard. |
| • | Most Thai food is already cut into small pieces before serving or made soft enough to be cut with a spoon or fork; thus, a knife is unnecessary. |
| • | Salt-shakers are rarely found on Thai dining tables, so add a little caramel-colour fish-sauce (called nam-pla in Thai) instead, if you find your food not salty enough. |
| • | English is spoken in large restaurants in tourist provinces and most establishments have menus in Thai and English. |
| • | Beckon waiters with a wave of a hand. Don't clap, snap fingers or hiss. |
| • | Normally, a tip of 10-20 baht or 5-10% of the bill should be left when dining in a middle or high-class restaurant. |
•
Don't get involved with any kind of narcotic drugs, gambling, child prostitution or other illegal activities that violate the law.
•
Don't walk in isolated places.
•
Strictly observe the warning signs at tourist attractions. Don't violate the law, as this may result in severe consequences.
•
Be careful with your bags and valuables when travelling. Don't leave them unattended.
•
Don't accept any complimentary tour offered by a stranger. Reliable tourist information and safe tours are only provided by a tour agency with a license.
•
Before using any service, check the information before making a final decision and keep all the important related documents in case a problem should arise after using the service.
•
Don't take any foods, drinks, or candies offered by a stranger.
•
Don't spit saliva or phlegm, discard cigarette stubs, or throw away any garbage in public areas, on the streets, or on the ground. Offenders are subject to a maximum fine of 2,000 baht.
•
Consult Thaiways web or Thaiways magazine, the most comprehensive guide to Thailand , or obtain information about the tourist destination from the Tourism Authority of Thailand before travelling. Check the weather conditions, especially when going to the sea, and your health, so that your trip will go smoothly.

If you have any problems while travelling.

Please contact the Tourist Service Centre, Tel. 1155 (24 hours)

or Tourist Assistance Centre, Tel. 0-2694-1460 (Mon - Fri, 08.30-16.30)
| | |
| --- | --- |
| • | Be careful with your bag and valuables while shopping in a crowded area. |
| • | After buying and before leaving the shop, check that the goods are the same that you bought. Some shops do not exchange or give refunds, and make sure you keep the receipts. |
| • | In the case that you have the shop send the goods by mail, ask for a receipt for sending the goods, so that you can be certain that there is an actual mailing service. |
| • | Bargaining is an art long practised in Asian countries including Thailand. So feel free to ask for a proper discount when shopping in places where prices are not marked. |
| • | Be careful in dealing with sidewalks vendors who may not offer genuine goods at fair prices. |
| • | Souvenir stores in hotel arcades and department stores may ask for higher prices than general souvenir stores and street shops for they have to pay high rents. Yet these shops mostly offer high quality goods. |
| • | To shop gems, make sure that you shop from a specialist in that field instead of buying from a simple souvenir store. |
| • | Before making your decision to buy, especially precious objects, compare prices at several shops. |
| • | Receipts should be obtained for the goods you buy. For jewellery you must get a certificate of guarantee as well. |
| • | Some shops can offer a money-back guarantee but you should clearly determine all conditions with the shopkeeper beforehand. |
| • | Ask for a written agreement to full refund on any goods returned within 90 days. |
| • | Do not let a new acquaintance take you to shopping, for he or she is very likely to get a commission from the store. And the commission will be added to your payment. |
| • | Do not let yourself be pressured to a purchase. |
Your Logo or

Picture Here

Why not advertise your

Company or Website here